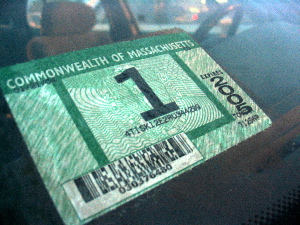 Thanks to mechanic Samir Al-ghazi of the Peabody Sunoco, and a timely tip from ***Bob Golding|http://bobgolding.blogspot.com/***, my car has passed the ***Massachusetts Enhanced Emissions and Safety Test|http://vehicletest.state.ma.us/***! I'm safe and clean for at least another year! 🙂
Since I have an even numbered year car, and this year is an even number year, I had to have an emissions test in addition to the safety test. If you're interested in my car's emissions levels:
Hydrocarbons GPM: 00.17 (Limit 01.20)
Carbon Monoxide GPM: 006.25 (Limit 020.00)
Oxides of Nitrogen GPM: 00.50 (Limit 02.50)
Carbon Dioxide GPM: 252.15 (No limit specified)
I'm not sure what GPM means – grams per meter? In any case, I guess it's acceptable to the state of Massachusetts.
Hooray!