Friday night, Becky and I are heading off on another whirlwind adventure! This time, we're taking a road trip, the general route of which you can see below:
ppp|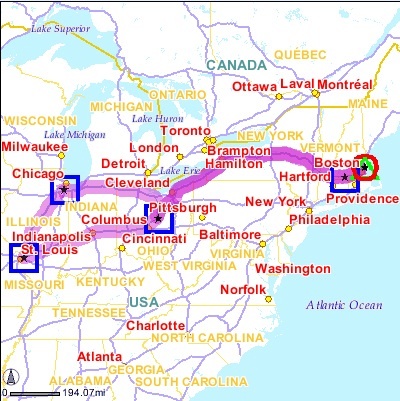 |ppp
We're stopping briefly in Charlton, MA on Friday to stay with Kevin and Susie, who are conveniently located near the Mass Pike. Saturday morning we will drive straight through to Mount Vernon, OH to spend a few days visiting with my parents, sister, and brother-in-law. From there we'll be driving to [Saint Louis](http://en.wikipedia.org/wiki/Saint_Louis%2C_Missouri) to see the [Jefferson National Expansion Memorial](http://en.wikipedia.org/wiki/Jefferson_National_Expansion_Memorial) (i.e., the Arch and its environs), and then we'll be driving up to [Chicago](http://en.wikipedia.org/wiki/Chicago) to spend a few days visiting Melanie and taking in the sights of the Windy City. Finally, we'll be jumping back to Mount Vernon, and then back home to Beverly on Sunday, October 23. Phew!
It will be a long and tiring trip, but we'll be spending it in the best of company. And that's really what makes any endeavor worthwhile.